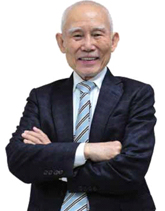 Mr. Cheng Man Tai
Founder of the Embry
Mr. Cheng Man Tai founded Embry in Hong Kong in 1975, and has more than forty years of experience in the design and manufacture of lingerie products.
In July 2006, Mr. Cheng was conferred the World Outstanding Chinese Award jointly by the World Chinese Business Investment Foundation and the American Asian Development Association, USA. He was also awarded an Honorary Doctorate of Business Management by Armstrong University.
Mr. Cheng graduated from Beijing Agricultural Engineering University (now known as China Agricultural University). He is now an Honorary Professor of China Agricultural University.
Mr. Cheng was elected a Fellow of the Asian Knowledge Management Association in December 2008. He was also conferred an Honorary Fellowship and admitted as an Honorary Professor by the Canadian Chartered Institute of Business Administration and Lincoln University respectively in September 2009.